In a frame, on the wall, in an instant
Creative Child Magazine Awards:
Articulate won 2023 PRODUCT OF THE YEAR AWARD AND 2023 SEAL OF EXCELLENCE AWARD.
It's gifting season and what a great gift this is. Imagine the look of joy when your little one gets to proudly display their picture in your picture frame. Making memories with art.
You can frame each and every piece with an Articulate Gallery picture frame, bringing a sense of achievement to your child and tidying up the fridge door all at once.
The Articulate Gallery's award-winning range of slot-sided picture frames are a great way to showcase children's artwork and encourage kids to get creative. Creativity is at the core of all problem solving so it makes sense to have creative kids. Being creative gives a great sense of achievement, especially when your art is framed on the wall.
Sir Ken Robinson once said Creativity is as important now in education as literacy, and we should treat it with the same status. How right he was.
Scroll down to see the range or have a peek at my shop...
BTW I also do wholesale for businesses.
Buy frames
Create
Encourage those mini masterpieces
Frame
Simply slide in the crafty creations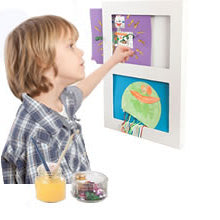 Share
Display for the world to enjoy
An award-winning brilliant idea.
Thanks for visiting my wee website, I hope you find it interesting and useful.
Picasso said, 'every child is an artist', he was right - every child loves to make and create, paint and draw so every parent has that same dilemma - what to do with the children's art. The Articulate Gallery is the solution.
Creativity is at the core of all problem solving so by encouraging our children to be creative, we make smarter kids.
The Articulate Gallery is a multi-award winning range of slot sided picture frames especially for the display of 2D and 3D children's artwork. It takes the children's pictures off the fridge door and places them in their rightful place in a frame on the wall in an instant. The children gain a sense of achievement when they see their artwork in a "Gallery", which aids their development. These make a great gift for any family member. The frames allow easy rotation of the art and, being less expensive than conventional framing is a great way to encourage creativity in the children.
The frames hang portrait or landscape and will display 3D pictures - you know the kind with cotton wool or pasta stuck on. You can keep a few in there too so you can display your favourite of the moment any time. 
The Articulate Gallery comes in white only for the moment and there are a few in the range. Single, Double, Triple and Quadruple.